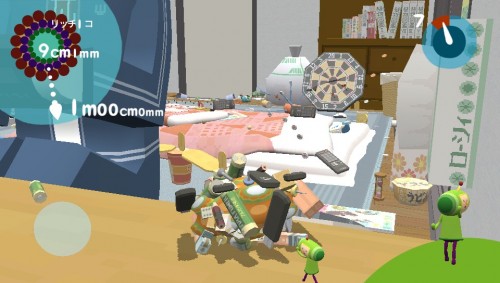 So, what does the Katamari world and billiards have in common? Well, this new trailer might give us the answer. The world's best billiard player shows off the different kind of tricks that have been inspired by one particular Playstation Vita game. I, of course, refer to Touch My Katamari. They range from simple shots to some real interesting ones. The video also goes into some details for teh game. Touch controls will be present, but for those who want a more traditional style of play, then the physical controls will also be available. You can watch the trailer below to see them.
The latest installment in the Katamari series, Touch My Katamari, is the debut of the beloved franchise on PlayStation Vita. The King of All Cosmos has a whole new bunch of weird and wonderful missions in store as you once again step into the shoes of his son, the prince. Use the PlayStation Vita touch screen controls or dual analog sticks in conjunction with the rear touch pad to squeeze, stretch and roll your Katamari ball around the environments gathering up every possible object to make it grow. The King will send you to the four corners of the earth to complete your oddball missions and restore his very particular kind of Katamari order to the universe.
Touch My Katamari will be a launch title for North America and Europe on February 22 (despite the typo in the trailer).