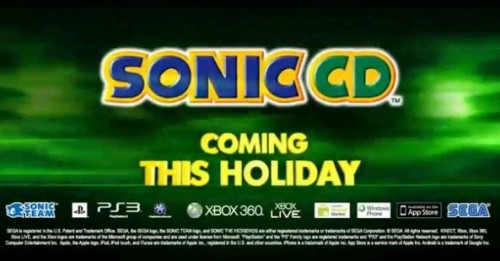 New Years Eve is vastly approaching and now you can party like it's 1993 with Sonic CD. The original Sega game, which saw the return of Dr. Eggman trying to take control of time by stealing the Time Stones from Little Planet will very soon be available across multiple platforms. With your help Sonic can travel through time and to thwart his evil plan.
Voted as one of GameRader's top 100 games of all time, the revamped version will include both Japanese and US soundtracks, and for the first time the ability to play the game as Tails who is unlockable after clearing the game for the first time. It was also in Sonic CD that we first met Metal Sonic, who makes his return in this revamp.
Sonic CD will be available from the 14th of December for Xbox LIVE® Arcade for the Xbox 360® (400 MSP), PlayStation®Network in Europe for $5.00 / £3.59/ €4.49 / AUD$6.25 and iPhone®, iPod® touch, iPad® for $4.99/ AUD$5.49/Euro $3.99/UK £2.99. Sonic CD will also be released on the PlayStation®Network in America on 20th December and lastly, Android and Windows Phone in early 2012. Check out the brand new launch trailer below.