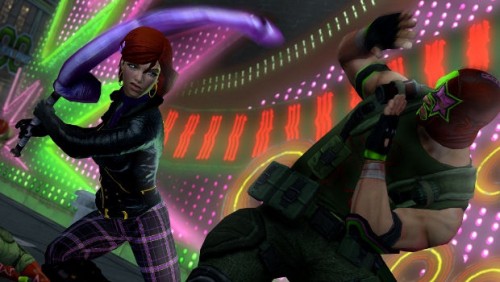 Ladies and gentlemen… big purple dildos covering baseball bats have officially claimed the lives of 2 million residents of Steelport. However, this figure is small when compared to the figure of lives lost in the carnage that is Saints Row: The Third. A total of 5.8 billion lives have been lost from gang and senseless violence. May all of those who have departed rest in piece.
In addition to the above figures, THQ has compiled a report on what else has been going on in Steelport:
Players have spent a cumulative total of two years in their birthday suits.
In Whored Mode, 44 million pimps, gimps and prostitutes have been dispatched.
650 hot dog mascots have been overcooked to death by players using a flamethrower.
In other news, THQ have announced a new way to map the chaos you create in Saints Row: The Third. By logging on to SaintsRow.com, there are a number of applications that allow you to track the carnage you have created in Steelport and compare them to your fellow players. This is what you can do on SaintsRow.com:
Saints Row: The Third Stats and Achievements Tracker
With the new in-depth tracking features on SaintsRow.com, you can now quantify the crazy. Check out your stats page for a list of your most devious accomplishments, from total time surfing moving vehicles, to number of pedestrians you've run over. See how you rank against the rest of the community, or drive by a friend's profile page for a head-to-head comparison.

Big Picture Map of Steelport
Some maps show directions. This map shows indiscretions. Check out a top-down map of Steelport updated in real-time with a feed of all in-game activity. In addition, tag an area on a map and leave hints for the rest of the community. Know the location of a hidden secret? How about a tip on completing a mission? This is your time to share. Finally, upload your favorite screenshots and tag them on the map to create your own cherished memories from Steelport.
So, what are you waiting for? Head to SaintsRow.com to start tracking your carnage.