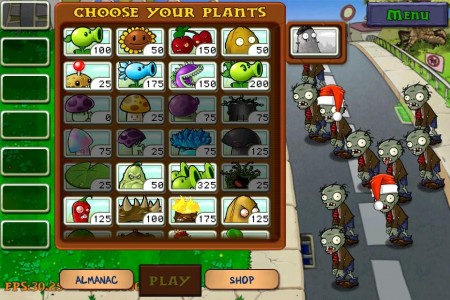 Can you believe we're only 9 days away from Christmas? It's the happiest time of the year for many, and PopCap are celebrating with a nice seasonal update for Plants vs Zombies. As you can see in the photo above, this update lets the many characters of the game don some holiday attire and hats, but there is a bit more that has been packed in this download.
A new mode by the name of I, Zombie has been added and allows players to play on the zombie side of the garden. Boasting one free level (with 8 additional levels and Endless mode available for in-app purchase through Crazy Dave's shop), I, Zombie offers the same kind of features that the PC and Console versions have seen as well as four new achievements (Better Off Dead, I,Win, Where the Sun don't Shine, and Undead Space) as well as the introduction of Bronze, Silver and Gold Mystery Sprouts. Leader board support has also been added, so you now have no excuse to purchase or simply download Plants vs Zombies for your on-the go fix.
So take a break from shopping and get to the backyard, as Santa's undead friends are plotting an attack on all iOS devices.