Founded by the producers of hit games like Mirror's Edge, Battlefield, and Killzone, Might & Delight is pleased to announce Pid will be released in 2012 for consoles and PC.
Pid offers an unique resemblance to platform games like Oddworld: Abe's Oddysee. At first glance the world of Pid seems to be a bit depressing given the darker artwork. That and in some scenes you see the locals sitting on a couch next to a street light. Pid proves to be quite an odd piece in its appearance, and I hope that its uniqueness is carried through into the storyline.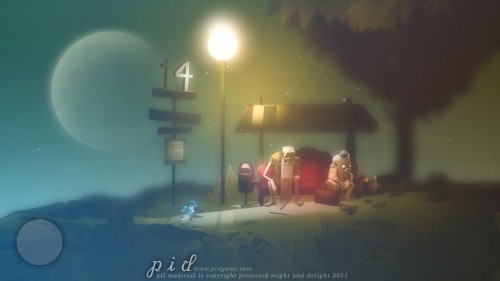 The platformer will involve players using abilities for bending gravity, puzzle-solving, and defeating screen filling bosses. The mechanics look fun to use especially the ability to bend gravity. The classic feel should fall in with enemy avoidance and object manipulation.
Can the protagonist outwit the local robots and stop the tyranny of Pid's ruler? Will he ever get to go back home? Check out the trailer below to catch a glimpse of the gameplay and the dark theme of Pid.