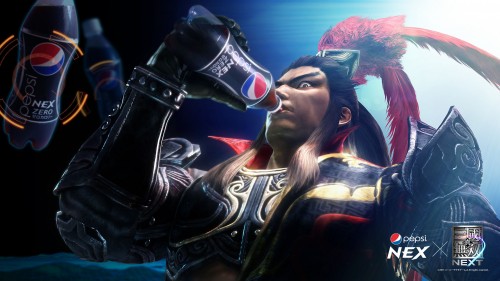 Now see, why can't we have nice video game advertisements like that outside of Japan? But in all seriousness it seems that Dynasty Warriors Next and Pepsi Nex (Japanese name for Pepsi Next) are forming a little marketing campaign in Japan since they both have the word Next in their titles… or something like that.
Tecmo Koei and Suntory International have teamed up to provide this little collaboration between the PlayStation Vita's launch title Dynasty Warriors Next and Pepsi Next by releasing the above image which can be downloaded in high-res as a wallpaper. Plus the Japanese Pepsi website will be giving away 50 copies of the title but it doesn't seem to be open to outside of Japan entrants.
It seems that Pepsi Nex has taken quite a unique marketing approach lately, now they are advertising with one of the memorable characters from Dynasty Warriors Lu Bu but earlier this year they had a bit different advertisement using anime as their sales driver.