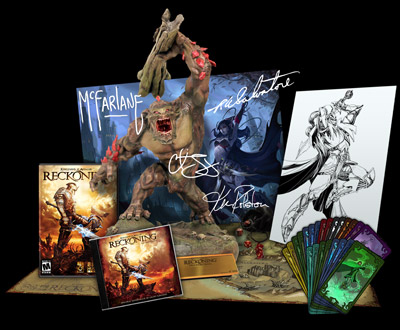 There are a few things you can spend a whole bunch of money on, but how about a fancy expensive version of a highly anticipated video game? Sure some people may have scoffed at the expensive $150 Skyrim bundle which included a very nice dragon statue and a bunch of other goodies, but how much would you be willing to drop on a video game?
Well today EA has revealed that Kingdoms of Amalur: Reckoning will have a number of various editions besides the normal $60 package. For $80 you will receive a parchment map, a seven-piece dice set, replicas of the 40 "Destiny Cards" found in the game, a soundtrack, and DLC weapons that increase XP gained from "Fate Shift Kills."
Those with quite a bit more coin in their wallet can drop $200 on the Collector's Edition which will include everything said before as well as a 12.5″ tall "Prismere Troll" statue designed by McFarlane Toys and a concept art lithograph signed by Ken Rolston that is limited to only 700 units.
Still if you have even more money to spend there is the $275 Signature Edition which includes everything above but instead the troll is signed by Todd McFarlane, R.A. Salvatore or Curt Schilling and a custom sketch by Todd McFarlane. Only 300 versions of this will be made and you can pre-order any of these versions here. I do believe that $275 is the most expensive special edition I have ever seen…