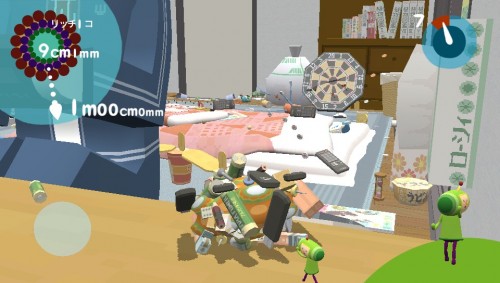 It seems Namco Bandai is gearing up for more downloadable content for its games. This time, the Playstation Vita launch title Karamari Damacy Novita (known as Touch My Katamari in the West) will be getting post launch downloadable in the form of missions and song packs. This was revealed in the latest issue of Famitsu magazine.
The way to obtain DLC for Katamari is interesting to say the least. It involves collecting Fan Sprites, which are little pink people with hearts on their heads. If you don't mind a little hard work, then you can obtain ten throughout the levels and use them for free DLC. If that is too much work for you, then you can purchase Fan Sprites in one (¥50), three (¥130) and five packs (¥200).
Famitsu has also revealed two of those missions. Snowman will involve the player building a four meter snow ball. This mission will be available at launch. The second mission is Shopping. On this mission involves picking out very expensive items for your Katamari within five minutes. This mission has yet to receive a date.
Outside of DLC, the magazine also looks at the Near functionality. Using Near, players can obtain records from friends. There is an incentive to beating the scores. Beating the scores will win candy for the player, which they can trade in for new costumes.