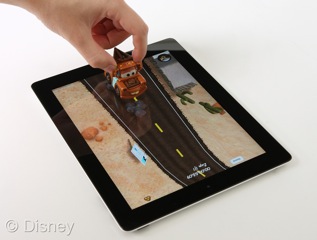 It seems that Skylanders was just the beginning of bringing the gap between virtual gaming and physical toys. Disney is now bringing out a mobile app which will allow kids to use the iPad as a virtual play mat.
Disney has released these shots, showing that they seem to be aiming the product at Cars first. Will this be the way of the future? Who knows, but I think that if it is we're going to see a spike in broken iPad screens.
So here's a financial tip from me, invest in companies that make big business from iPad screen repairs, cos they are going to see some definite sale improvements.