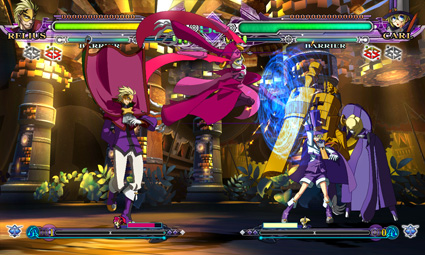 This is for all of the ladies (and gentlemen) out there. If you have a special someone who loves their fighting games and happen to be living in North America, then take him (or her, no discrimination here) to your local game outlet on February 14. Why? Because Askys has revealed that BlazBlue: Continuum Shift Extend is being release on that day. Wouldn't be good if you picked up the game and spent time pummeling each other on that Playstation 3 and Xbox 360?
BlazBlue: Continuum Shift Extend is also coming out on the Playstation Vita. It is also being released on the same day, February 14. This makes it a pre-launch title, considering it is released before the official launch on February 22. Man, two fighting games coming out within two days of each other? Wow, fighting fans have some choice to make… which is obviously both of them, if you can afford it, of course.
Also coming out on Valentine's Day from Aksys is Hakuoki: Demon of the Fleeting Blossom, an otome game where you take control of a young girl looking for her father,  for the Playstation Portable. Askys is sure making Valentine's Day the day of the Japanese niche fan, aren't they, especially that Hakuoki will be North America's first otome game, where the female looks for a male partner.