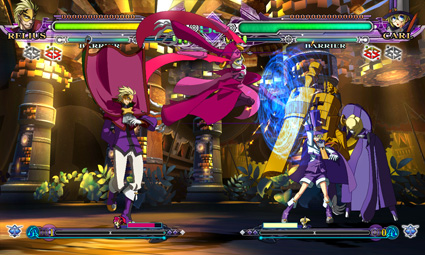 BlazBlue: Continuum Shift Extend is another entry in the BlazBlue series, building upon the original Continnum Shift and the first update Continnum Shift II. That makes it the second update to the game. In Japan, it will be released on December 17 on the Playstation 3 and Xbox 360. A Playstation Vita version will also be available, making it a launch game. Now, Arc System Works Europe can confirm that Europe will be receiving the game in the first quarter of 2012 for all platforms.
So, what makes this update different? The game will include all of the features from the previous versions, all updated of course, with the DLC characters (Makoto, Valkenhayn and Platinum the Trinity) and Relius Clover all available on the disk/flash card. The game will also include a new opening animation produced by Production I.G as well as new theme: "Azure Light" (Sōkyū no Hikari?) by Faylan.
In terms of additional modes, Arc System Works have included Abyss mode, team battles (2v2, 3v3, and 2v4), Unlimited Mars mode for that great, tough challenge. The story has been expanded as well with an additional 23 scenarios added. This looks like a great pickup for those who haven't played the BlazBlue series.