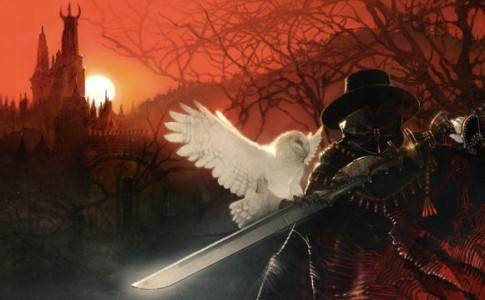 Square Enix is revisiting the Unreal Engine with a medieval inspired RPG, first revealed by Famitsu quite recently. However, the game has no name or story at the moment. However, it does have its first piece of artwork. If you want to have a look at it, look above this paragraph. It is a man with a sword and what seems to be an owl as an companion. In the distance is a castle with the sun setting in the background. Looks interesting.
This particular piece of artwork was found at their recruitment page. It seems they are still looking for members to join the development team. Here is what they are looking for:
Planner (Action) — creating the specifications and data for the game's action, focusing on combat action.
Planner (Writing) — writing the text for the game and scenarios.
Planner (Level) — level and field design via Unreal Engine 3, positioning enemies, items and so-forth.
Game Programmer — camera control and AI.
Network Programmer — matching and network synchronization during gameplay.
3D Graphics Programmer — real time 3D graphics realization and optimization.
Physics Programmer — in-game physics simulation and optimization.
Animation Programmer — 3D model animation.
Art Designer — background art (image and gadgets), character and enemy art and design.
Motion Designer — game character motion.
VFX Designer — effects for action scenes, cut-scenes and so-forth.
BG Modeler — production of 3D backgrounds, level design.
Character Modeler — modeling for characters and enemies.
If you think you can handle one of these roles, have game development experience and can read and speak Japanese, then why don't you head over to their recruitment page. They are asking for experience with the Playstation 3 and Xbox 360, so it safe to conclude that these are the platforms that this game will be coming out on.
Source: Andriasang