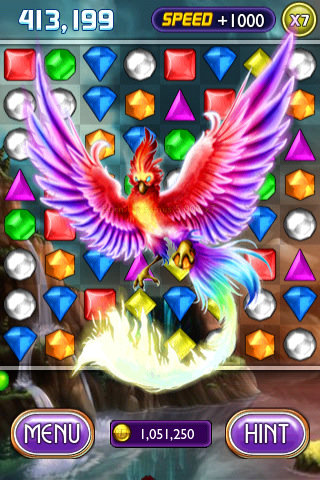 PopCap announced today the launch of an all-new Bejeweled for iPod Touch and iPhone, as well as a brand new freemium version of Bejeweled Blitz for those devices.
The re-release of Bejeweled signals the retirement of the Bejeweled 2 from the App Store, though the new version will cost an additional 99 cents (US). It will include much-improved high definition graphics which support Retina Display, the Zen and Diamond Mine modes from Bejeweled 3, leaderboards, and achievement badges. In addition, PopCap promises to continuously update this version of Bejweled with new modes, content, and features.
The free-to-play Bejeweled Blitz will include the original 60-second gem-matching mode from the Bejeweled games, as well as an updated user interface, a tutorial system, and a Daily Spin feature where players try their luck to get bonus coins.
The Bejeweled franchise has sold over 40 million copies worldwide; the only puzzle game more succesful is Tetris. To this count, Giordano Bruno Contestabile, the Bejeweled franchise business director at PopCap commented:
As we strive to reach virtually everyone with a mobile communications device, PopCap will continue to make games that are even more accessible to that ever-expanding global audience. We're taking a critical step toward this goal with the introduction of these new Bejeweled titles that will enhance our offerings on the iPhone for years to come.
Both games are available on the App Store right now.