Doublesix Digital Publishing has announced that All Zombies Must Die! is coming our way with separate console release dates. This twin stick shooter will be available on the PlayStation Network on December 27th for $9.99 and Xbox Live Arcade on December 28th for 800 Microsoft points.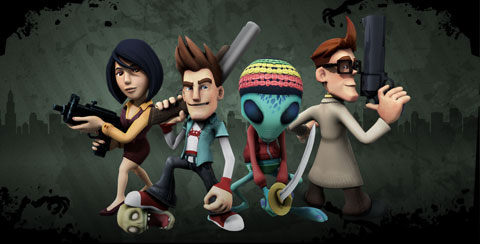 In a world where the military cannot handle a zombie breakout, only four remain as the Earth's last line of defense. A gamer, girl, alien, and scientist are all that stand between the zombies and the prized human grey matter. The town of Deadhill – appropriately named – is under constant swarm of zombies. Our heroes must complete quests throughout the town as they administer destruction to the undead.
While the gameplay surrounds the twin stick shooting format, RPG elements have been added to increase the fun factor. Characters are able to build new weapons from collecting items throughout the levels. As players progress through levels they will also gain experience to add points into attack, defense, health, and speed. How you administer these points will greatly change your experience of play.
With the holidays only days away, All Zombies Must Die! could be an unique gift for only $9.99 or 800 MSP. Check out the Christmas gameplay trailer below, and spread the holiday cheer!