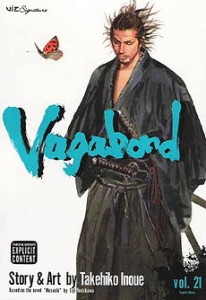 Takehiko Inoue, the popular mangaka, behind Slam Dunk and REAL, has been working on the epic ronin manga Vagabond for over a decade. Last year he put the manga on indefinite hiatus due to a decline in his health. After recieving results confirming that he was well enough to continue the manga, he did not return to working on the series, instead claiming the the manga will not return until his enthusiasm for writing it does.
It has now been confirmed that Vagabond after a years hiatus is making it's long awaited return. The series which is loosely based upon the life of the legendary ronin Miyamoto Musashi, has recieved wide-spread acclaim since it's original release and it is sure to make a triumphant return to print. However it is currently unknown as to what date the series return is slated for. All that is known is that Inoue has went back to work on it.
What do you think of the impending return of the Vagabond manga? Let us know in the shoutbox and comments section.