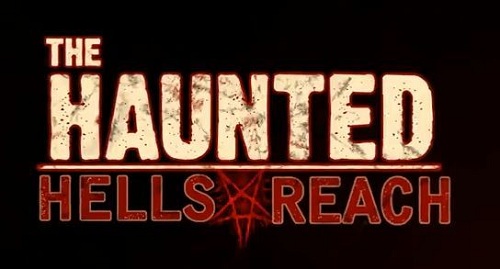 Released just over a week ago and already receiving much praise for its original art direction and unique take on survival shooter gameplay, "The Haunted: Hell's Reach" is stirring things up for the whole zombie game genre. The project and its team are a force to be reckoned with. Excited to get an insight into The Haunted's growth from humble beginnings to critical acclaim, I caught up with the game's original creator, game and art director, and programmer, Michael "Hegi" Hegemann, and here's what he had to tell me;
Capsule: The Haunted started out as an excellent total conversion for the already rich and fertile Unreal Tournament modification scene, but earned high praise and status (congratulations by the way) when it won the 2009 Make Something Unreal contest. What was that like for you guys?
Michael Hegemann: That was a really great success for us and without the contest it would not have been possible to make this game. Something like that will probably never happen again. It was great to see former team members getting more recognition and being hired for their work on The Haunted. The contest times are unforgettable and everyone who has been part of the project can be proud.
Capsule: The survival shooter is something of a crowded genre as of late, and many other titles also feature our good friends the undead. What personally do you guys think you brought to the table with Hell's Reach?
Michael Hegemann: I think the unique combination of weapon combat, melee attacks and movement along with the unique style is what sets us apart from the other action games out there. We are not a big IP and therefore can take more risks and try out new things. Then we have cool game modes like Demonizer where each dead human player is turned into a demon and can spawn and play the monsters by himself.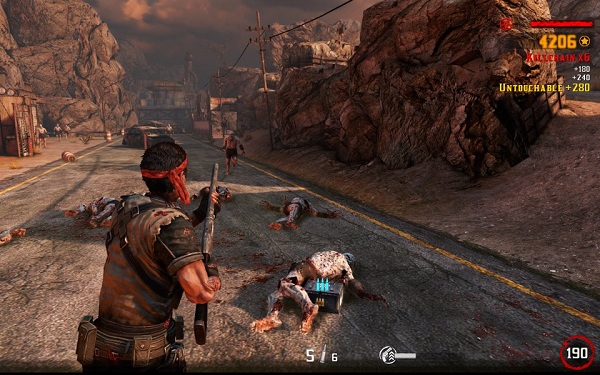 Capsule: The use of colons in the title makes me think you guys want to make more games in the universe of "The Haunted", is there a real possibility of this or is this just wishful thinking on my part?
Michael Hegemann: Of course there is a possibility, I don't think we will ever turn this into a epic franchise like Uncharted and others, but who knows what the future will bring. Let's finish Hells Reach first and bring it to console players around the world on Xbox360 and PS3. Then we can talk about The Haunted: Social Slaughterhouse for Facebook!
Capsule: I don't doubt that the project has been something of a journey for you guys, so I'm dying to know; what was it like developing The Haunted, both as a mod and then an indie game, and what were the biggest challenges and victories along the road?
Michael Hegemann: It was really one hell of a journey with a lot of ups and downs. For me, things have become a bit quieter as the foundation of the game is done and it's much more about the details of Game Design wich is Gerhard's territory. I weighed in on all art and game world things. Overall I'm still happy about the consistency of everything after all these years and despite it being a real arcade game. The mod times were pretty cool, it was amazing how this project grew from a small and personal game to something this big. I'am thankful that I could experience the development time together with such a great team of people and with all the creative peak-states especially during the mod years where the style was defined and new features or weapons came to life on a daily basis. It was extremely hard work but the reward of seeing it evolve is just unexplainable. The biggest challenge is always finishing something, the last 20% takes 80% of the time. Great victories were winning big in every contest phase including the grand finals and then getting a publishing deal in 2011 and then finally releasing the game. Thanks to the founders of KTX Software and THQ who made that possible. The coolest thing however is when people really love the game and give us feedback.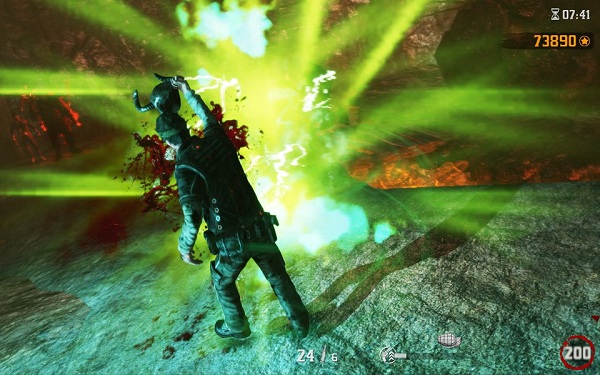 Capsule: One of the very best aspects of Hell's Reach is its art and graphics. Staggeringly detailed environments, wonderful particle effects and fantastic use of colour grading all make it as great to look at as it is to play. Who in your team is behind the magic and where do they get their inspiration from?
Michael Hegemann: Thanks, it's all about style and gameplay. I have done the Art Direction and laid all the groundwork. The small and highly talented team of artists then made the idea a reality and here we are. Quite a few people said it's influenced by the Dark Tower universe, especially the first book, and it is. The style that is so perfectly described is so distinct and memorable that it sticks with you, but it kinda feels like drawing an image through 50 sheets of paper when people get a Dark Tower vibe from the game.
The locations are seperated into gothic style and western/modern style environments. This allows us to have a lot of consistency but also allows us to be very varied. The music also has been specifically composed to fit these scenarios, wich adds another layer of individualism. The goal was that the style is somehow remarkable and unique, rather than trying to be realistic at all costs. Once you see it, you know exactly what game it is.
The scenario is also heavily influenced by the horror and action films aswell as tv shows that most gamers of our generation watched as kids. It's like "Evil Dead meets the A-Team in Mid-World". Heavy metal and rock music also had it's influence on the style.
Despite the influence of past decades on Hell's Reach, the game looks modern, but hand-crafted and unique for it's genre.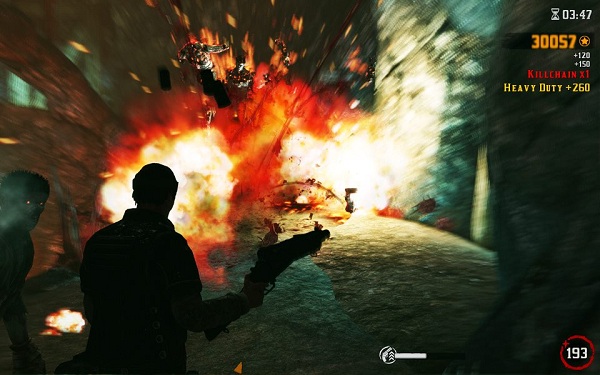 Capsule: Last, but certainly not least, the Steam store page for Hell's Reach promises "free future updates and DLC", without giving away too much, what upcoming stuff can you tell us about?
Michael Hegemann: We dont know yet what that DLC will be, but most likely an extra map or two.
We at Capsule Computers would like to thank Michael for taking the time to answer our questions, and we wish him and the rest of the team all the best.
If you want to track updates and DLC for The Haunted: Hell's Reach, you can do so on Twitter.