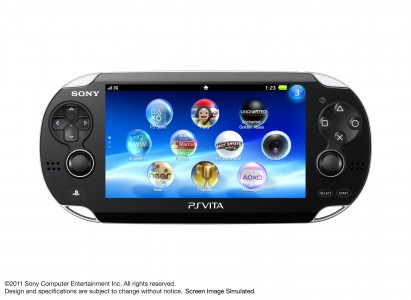 As the Playstation Vita draws ever so closer to its Western debut, Sony Computer Entertainment Europe has revealed what their studios shall offer when the Playstation Vita launches in Europe, Middle East and Africa on 22 February 2012. Australia and New Zealand will receive the Vita a day later on 23 February 2012. The announcement was made at a special event in London. The Vita will be launched in two models, the Wi-Fi model will launch at AU$349.95 while the Wi-Fi/3G model will be priced at AU$449.95. The Wi-FI/3G models includes a Vodafone sim, which, when connected, will offer a free digital copy of WipEout 2048.
The lineup includes some of what would be the heavy hitters for the portable. They are:
Uncharted: Golden Abyss
WipEout 2048
Reality Fighters
Little Deviants
ModNation Racers: Road Trip
Everybody's Golf
Escape Plan
Top Darts
Hustle Kings
Unit 13
MotorStorm RC
You may notice two new games in that list: Unit 13 and Motorstorm RC, both announced at the London preview event. It is a third-person military shooter, where players will choose from six different classes – Infiltrator, Sniper, Soldier, Technician, Point Man and Support. Objectives will be various as the player will conduct the demanding missions in the most hostile regions of the world – to stop terrorists, dictators, gunrunners, warlords and drug traffickers from destabilising the Horn of Africa, the Arabian Peninsula, and South Asia. Motorstorm RC is a unique blend of old-school and contemporary racing gameplay. You may have guessed that it will derive from what Motorstorm is to an extent, with a focus on RC cars rather that the usual bunch. There will be DLC and expansion packs allowing gamers to access new tracks, vehicles, and more, after the launch.
Sony is also pushing augmented reality at launch as they announced that six AR cards will be offered and compatible with free software downloadable from the Playstation Store. The PS Vita will be the first games console to utilise WAAR (Wide Area Augmented Reality) technology. WAAR uses up to six cards and allows for a much larger gameplay area. I have seen this before my eyes when I previewed the console weeks back. It's pretty impressive. PS Vita will also support markerless AR, meaning that cards are not necessary. Reality Fighters is the best example of markerless AR.
Another feature that is coming to the Vita is cross-play. Cross-play means players can compete via challenges and leaderboards on PlayStation 3, or with the PS Vita, as well as continue their experience from one to the other. WipEout 2048, Hustle Kings and Motorstorm RC are the launch titles for that particluar feature.
Those eleven are not the only launch titles, however. They will be joined by third party offerings. However, those parties will announce their launch titles in the future. In the meantime, here are the third party titles confirmed for a release in the West so far.
Army Corps of Hell, Square Enix
Asphalt: Injection, Ubisoft
Disgaea 3 Return, NIS America
Dungeon Hunter: Alliance, Ubisoft
Dynasty Warriors Next, Tecmo Koei
EA Sports FIFA Football, EA
F1 2011, Codemasters
Lego Harry Potter: Years 5-7, WB Games
Lumines Electronic Symphony, Ubisoft
Michael Jackson: The Experience HD, Ubisoft
Ninja Gaiden (working title), Tecmo Koei
OddWorld: Strangers Wrath, OddWorld Inhabitants
Puddle, Neko Entertainment
Pure Chess, RebelPlay
Putty Squad Vita, System 3
Rayman Origins, Ubisoft
Ridge Racer, Bandai Namco
Shinobido 2, Bandai Namco
Silent Hill: Book of Memories, Konami
Stardrone Extreme, BeatShapers
Super Monkey Ball Banana Splitz, SEGA
Supremacy MMA, 505 Games
Tales from Space: Mutant Blobs Attack, Drinkbox Studios
The Treasures of Montezuma Blitz, Alawar Entertainment
Touch My Katamari, Bandai Namco
Troopies, Bloober Team
Ultimate Marvel vs. Capcom, Capcom
Urban Trials, Tate Multimedia
Virtua Tennis 4: World Tour Edition, SEGA
Orc Attack, Casual Brothers
Ben 10 Galactic Racing, Bandai Entertainment
Dragon's Racing, Ignition Entertainment
Robot Rescue Revolution, Teyon
Mortal Kombat, WB Games
Assassin's Creed, Ubisoft
Bioshock, Take Two
Street Fighter X Tekken, Capcom
Call of Duty, Activision Blizzard