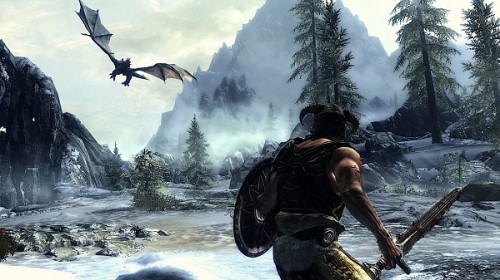 Bethesda has revealed how many units of their biggest title to date, Skyrim they shipped out to stores worldwide across the PC, PlayStation 3 and Xbox 360. The company states that they have shipped 7 million units and that the company has said that "more than 50% of launch units were sold in the first 48 hours" which is a huge number in North America, Europe, and Australia.
Robert Altman, the Chairman and CEO of ZeniMax Media had this to say with the huge reception Skyrim has received from the gaming community "We are grateful for the fans' response to Skyrim. Todd Howard and his team at Bethesda Game Studios have crafted a very special game. Anticipation for Skyrim has surpassed any game in our company's history, and we are pleased that sales and reviews have reflected the quality and hours of amazing gameplay it provides."
Since half of 7 million is 3.5 million, it stands to reason that the company sold that many copies in a short time. With the large number of units shipped so far, the company is expecting to see around $450 million back from the global sales of the title.