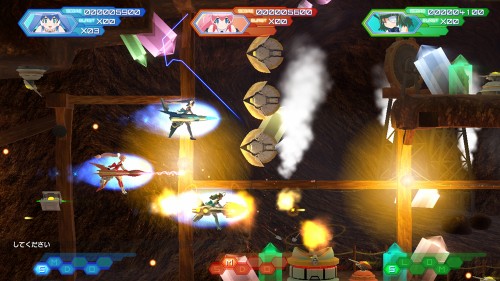 Those who have been waiting for a truly unique side scrolling shooter have to wait no longer. Konami's Otomedius Excellent has finally been released after multiple delays and is available on store shelves now. The title is available exclusively on the Xbox 360 and is the sequel to the Japanese only shooter Otomedius Gorgeous.
In Otomedius Excellent players will be able to experience the original Japanese character voices for the nine characters available. Gamers will also be able to play with up to three other players either on their own TV or team up with others online. Besides playing the game, gamers can also view various unlocked graphics in the expanded gallery mode.
Those with a bit of extra money to spend can look for the Special Edition of Otomedius Excellent which will contain a 2 sided pillowcase, a 65 page artbook and a soundtrack CD that contains music both from this game as well as Gradius. The normal edition will cost $29.99 while the Special Edition will run you $49.99, though there is plenty of extra bonuses available for that price.