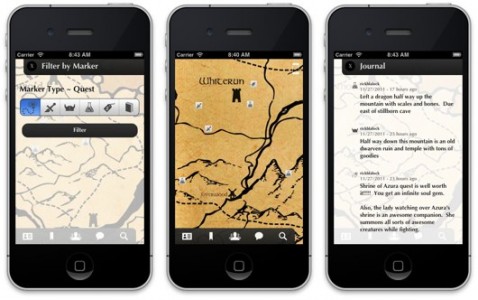 Currently, there are ways to find your way in the massive world of Skyrim, but they are not easy enough for many people. You can print a map out or view it in PDF on your computer.
However, we all know that apps are the way to go for a simplified experience. And thus, Dragon Shout has arrived. Coming to iOS as soon as it passes certification, this app will allow you to do a plethora of awesome stuff.
"The first version of the app contains an interactive map where you can drop annotated markers / journal entries down," the developer told Touch Arcade. "For example, yesterday I played Skyrim and left a bunch of dragon scales and bones on the side of a mountain because they were too heavy."
In the next update, the developer also promised social networkincorporation, with "marker sharing, party or app-wide chats, pictures, and more."
The best part is: IT WILL BE FREE!