Page 1 Page 2
Next up we got our hands on Seigecraft at the Blowfish Studios booth. In Seigecraft players take out waves of enemies with catapults and crossbows as well as various other targets. Graphically speaking, Seigecraft was also one of the most impressive titles on offer at GAME On which really grabbed our attention. It's hard to believe this developer consists of only three members! I had a quick chat to a very friendly Blowfish representative Aaron Grove about some of their previous titles Qbism HD and Hungry MonstR. They both seem like interesting titles so I guess I'm going to have to check them out as well!
You can check out Blowfish Studios' Facebook, Twitter and official website!

DinoRoar really brought they're A game when it came to promoting they're latest title for everything IOS and Android, Havoc! Sporting DinoRoar T-Shirts, giving away free soundtrack CDs, flyers, temporary tattoos and even free copies of the game! These guys really knew how to hype up a game, and they did a pretty swell job of it too. We got to try out a few levels on the iPad with the very cheery and enthusiastic Adam from DinoRoar, showing off with it's cute family friendly presentation and destructive gameplay where players take control of a monster and throw stuff at other stuff. My favorite Monster was Lilth, because Lilth was like Godzilla…but cuter!!! Oh yeah, and Spud got yet another highscore of the day whilst playing DinoRoar. What a machine!
CLICK HERE TO WATCH: HAVOC GAMEPLAY RUN THROUGH WITH DINOROAR!
You can check out DinoRoar's Facebook, Twitter and official website!

One of my favorites was easily Alternator, from Alternator Industries. Created for the ABC, Alternator is a high quality, 3D, free-to-play, browser-based racing game with a positive, environmental message. It was fast, fun and most importantly educating kids about renewable energies. What took me be surprise was four things: it's a browser-based game that doesn't suck, it's a educational game that doesn't suck, it's a FREE game that doesn't suck and it's the developers first published game. So many things could've easily went wrong here but the final product is pretty damn impressive. The director of Alternator Industries Bryan Moses spoke with us about the game and how they hope to bring it soon to XBLA and potentially an animated series in the future which seems really exciting. Hopefully they can bring it to XBLA as the game feels like it could really benefit from a console controller, but that being said it was still really fun playing it on a laptop as well.
CLICK HERE TO PLAY THE GAME FOR FREE ONLINE!
ALTERNATOR GAMEPLAY RUN THROUGH WITH ALTERNATOR INDUSTRIES!
You can check out Alternator Industries' Facebook, Twitter and official website!

Spud and I managed to get a quick look at Malevolence:The Sword of Ahkranox from Visual Outbreak and got a quick chat with the founding team behind it. Oh yeah and they also gave us a sweet fridge magnet as well! Malevolence is a first-person, turn-based RPG with a twist: the game is literally infinite as it is constantly recreating itself, and is expected to have a really impressive line-up scheduled for voice acting. A demo is schedule is due for release at the end of this year, with the full version due for release December 21st, 2012. Will this game end the world? Visual Outbreak seem to think so!
Don't forget to check them out on Facebook, Twitter and official website!

We managed to grab a quick game of Kraken Up from Hedgegrove Enterprises for IOS devices. In this the classic Kraken character must eat various creatures in order to survive and reach the surface. The game's concept was fun and it worked well, but it was obvious the game was still early in development. That being said, keep an eye out for this title as it does show potential and could be a really addictive title with a bit of work and polish! That's why I joined the mailing list!
You can also join the mailing list by signing up on the official website!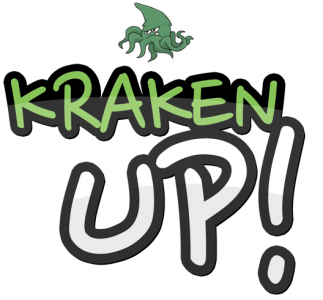 To bring this awesome day to a close, we stopped by to check out the kid's entertainment: TV hosts of children's show Good Game with D.A.R.R.E.N the robot and Goose. It was a fun little Q & A that ended with a Micheal Jackson dance off for kids. The Q & A was fun, although there was an eyebrow-raising moment when Goose said his favorite game was Legend of Zelda: Ocarina of Time 3D which was originally on the Super Nintendo, which made me giggle a little. On that note the day came to a close which totally sucked! We still hadn't gotten the time to check out some other developers such as independent developer James Forbes or the Bubble Gum Interactive team. We also missed out on those cool-looking retro-themed titles by University studios or I dunno, that awesome zombie Nerf gun shoot out! On the plus side however, I did get attacked by a bunch of zombies which you can see below. Oh well, I suppose that's just even more reasons why I should be excited for hopefully yet another GAME On! festival next year, as this one a total blast!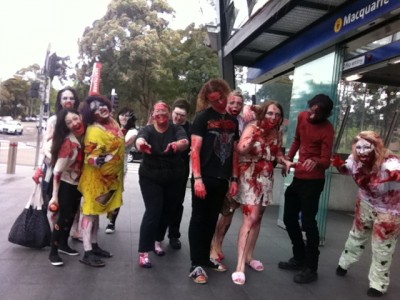 CLICK HERE FOR MORE COVERAGE OF GAME ON FESTIVAL 2011!
Page 1 Page 2