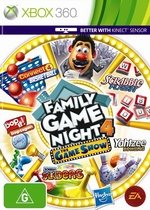 Electronic Arts has announced the launch of Family Game Night 4: The Game Show. This gives families the ability to bring the fun of the Hub Network's FAMILY GAME NIGHT television game show into their own living room.
Family Game Night 4 consists of five well-known games, BOP IT! Boptagon where you have to rely on your reflexes, Scrabble Flash which depends on your word skills, Connect 4 Basketball where your basketball aiming is put to the test, SORRY! Sliders, which is kind of like lawn bowls, and making sure to line up your ball just right in YAHTZHEE! Bowling. These games are hugely popular, bound to bring together the family and make it fun for the whole family.
Check out the trailer for the game below!
Family Game Night 4: The Game Show is currently available in Australia on the Kinect, Move and Wii for $59.95.