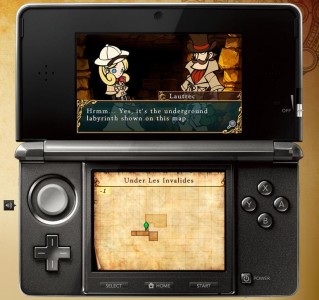 In two weeks time, Doctor Lautrec and the Forgotten Knights will finally make its long awaited debut on the Nintendo 3DS, but while we wait, Konami have decided to give players a small taste of what to expect. This demo is labeled as a "2D micro-experience" for the PC, and features a nice glimpse inside the many mind bending puzzles that the full game will offer.
Here is a brief description of what the demo holds inside:
The demo, reconstructed from the full game and adapted for the PC, will bring you into 19th century Paris and introduce you to Doctor Lautrec and his pesky and too-inquisitive assistant, Sophie. While not the full experience, the flash demo will give players a tune-up and tests their deductive reasoning, memory recollection and problem solving skills in a fun and enchanting world. Each puzzle, solved correctly, will unlock a new area for players to explore. But players aren't alone in their search as a cast of malevolent characters are also on the hunt for the treasure.

If you have around 20 minutes to spare, do yourself a favor and give this first crack at finding Louis the XIV's treasure a try in the link down below. Doctor Lautrec and the Forgotten Knights launches everywhere for the 3DS on December 13th.
Play the Demo HERE.