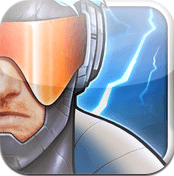 Act of Fury: Kraine's Revenge is a retro-style shoot'em up developed by DarkWave Games that has an interesting little twist. Instead of giving your main character, Kraine Severe, a weapon, he is in fact the weapon.
Kraine Severe has been experimented on by the mad scientist, Dr Osvald Pernicious, the leader of the Doom Legion. After escaping the laboratory, he finds out that thanks to the mad experiments of Dr Pernicious, he can now turn into a hurricane. Because the names don't have enough surrealism to them.
There are nine levels of action in four different environments, ranging from the desert to the icy North and South poles. There are three huge bosses to fight, all based on the evolution of the Doom Legion's prototype weapon. Earn some stars and spend them to unlock special powers, like other smaller hurricanes and thunderstorms. In case you just don't like any of your surrounding environments.
Act of Fury: Kraine's Revenge is available now on iTunes for $1.99 – get it HERE