Turtle Beach have announced their limited edition Call of Duty: Modern Warfare 3 headsets are shipping now and will be available in retailers in early November.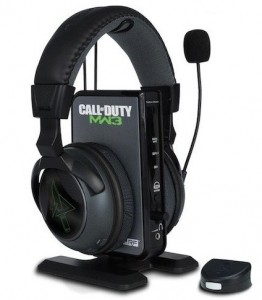 The limited edition headsets consist of four different models: Bravo, Charlie, Delta and Foxtrot (yes, we're loving the names too!). They were designed to give gamers the ultimate experience when playing one of this year's most anticipated titles, Modern Warfare 3. The headsets have unique sets of audio presets designed specifically by the audio teams at Infinity Ward and Sledgehammer Games.
Of course, the headsets will also work with all other games, and are available across Xbox 360, PS3, PC, and Mac. Delta, Bravo, Charlie and Foxtrot will be available from all major video game retailers around the world. If you want to hear more about these headsets, well…you can. Click here to check out our chat with Chris Eade from Turtle Beach at EB EXPO 2011.