Turtle Beach has long been known in the gaming industry as a brand for reliable and quality gaming headsets. This year at EB EXPO, when we saw Turtle Beach had a stand, we couldn't wait to get over there and speak to the team and see the latest products slated for release.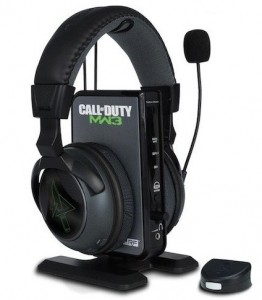 The absolute highlight of the Turtlebeach stand was the new Call of Duty: Modern Warfare 3 gaming headsets. These headsets are designed for closed-ear gaming for hours and hours on end without your ears getting hot or uncomfortable.
With the launch of Call of Duty: Modern Warfare 3 coming up in November, it's no wonder that gamers will want to prepare themselves for a long haul of gaming (no sleep and no social life, anyone?). Chris Eade said the headsets were made with these COD gamers in mind, and there are different options to suit the needs of individual. The headsets were officially released to the public at EB EXPO.
Have a look at our interview with Eade to get a peek at these new headsets, and visit your local EB Games store to pick one up. You can also click here to see the rest of our coverage for the event.