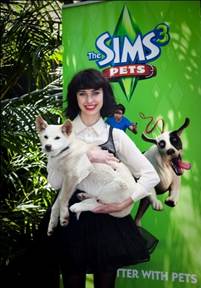 A little known fact to non-Sims fans/players, The Sims games feature a wide range of real life songs re-recorded in Simlish – The Sims' official language. In the past artists such as Paramore, Barenaked Ladies, Natasha Bedingfield, Lily Allen and Katy Perry have all had simlish versions of their songs featured in a Sims game.
And in the latest expansion pack for The Sims 3 and latest console spin-off 'The Sims 3 Pets' is no different. New Zealand singer-songwriter Kimbra has been announced as an ambassador for the game (You may know her from the hugely successful Gotye song "Somebody That I Used to Know"), and a simlish version of her song "Good Intent" will feature in the game.
The Sims 3 Pets is set to be released in Australia tomorrow and in New Zealand a day later on October 21st.
Check out our hands on preview and impressions on The Sims 3 Pets