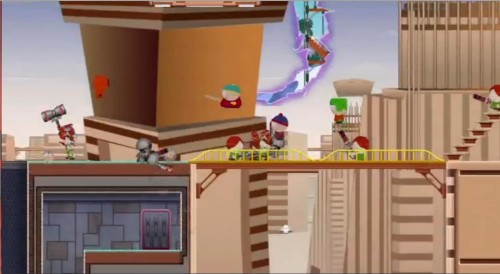 The South Park kids are not new to the video game scene, and their games usually aren't bad either. The South Park Nintendo 64 game remains a multiplayer classic, South Park Rally was an underrated Mario Kart clone, and their more recent XBLA outing Let's Go Tower Defense Play!! was a decent take on the tower defense genre.
So I'm fairly excited to hear that there's a new South Park game in the works for Xbox Live Arcade, titled Tenorman's Revenge. It's a co-op platformer, with players taking the roles of Kyle, Stan, Cartman and Kenny, as they set out to defeat Cartman's nemesis, Scott Tenorman, and his army of robot ginger kids.
Fans of the show will remember Scott Tenorman as the older kid who repeatedly humiliated Cartman, invoking his twisted brand of revenge – in this case, Cartman fed Tenorman his own parents, chopped up and served as chilli.
Yeah, don't ever piss him off.
Tenorman returned in the epic two-part 200th episode last year, having gone insane and risen as the leader of the ginger kids, who also have an ongoing beef with Cartman.
Not much has been revealed about Tenorman's Revenge so far, besides the scenario, some basic gameplay stuff, and a vague "Spring 2012" release window. We'll keep you posted on news regarding the game, but for now, check out the teaser trailer below.