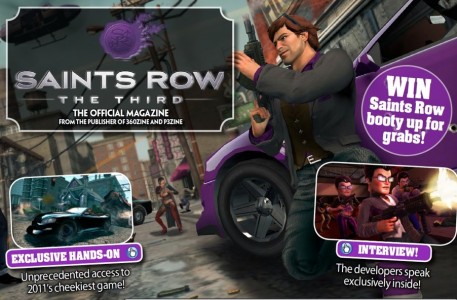 Yes Saints Row: The Third is "insane", and Cranberry Publishing have decided to channel this insanity into a magazine. Today the release of the Saints Row: The Third official magazine was announced, an interactive, digital publication offering new information and background information for the upcoming release.
The 14 page special reveals details about all the main characters you'll be meeting (and undoubtedly killing, at least for most). There's also an in-depth hands on preview as well as some history of the Saints and the franchise.
There's also a competition open only to those who purchase the magazine, giving them the chance to win a whole heap of Saints Row fun stuff, including a…real-life dildo bat. Persuaded? Of course you are…
"Everyone in the office is very excited about Saints Row: The Third and it was an honour to speak with the project's key talent to put this very special magazine together" said Andy Griffiths, Editor of Saints Row: The Third – The Official Magazine.
The magazine if available for FREE to download just by clicking here.