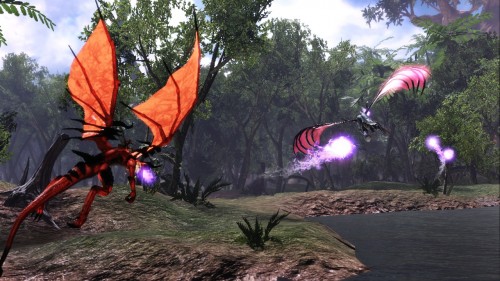 One of the first games we saw when the Kinect was first announced, that wasn't a child simulation game or a kid game, was Project Draco. It was a game that was supposed to allow players to control a dragon flying through the air with the use of the Kinect. The game was being produced by the people who made Panzer Dragoon, but unfortunately the game has seen almost zero press.
Until now, when it was announced by the creators Grounding, that they have licensed Epic's Unreal Engine 3 to create Project Draco. Yukio Futatsugi, director at Grounding said that "because this is Grounding's first high-definition game, we looked at many technology options and picked Unreal Engine 3 as the best solution."
He went on to say that the team had begun development back "in September 2010 when Microsoft first announced the title. While our team size is only 15 people and we had merely one year from the start of the project, the productive tools and efficient processes of Unreal Engine 3 meant we could come up with a high-quality playable demo in a very short time." You can check out the screenshots below, which certainly enforces the hope that Project Draco will indeed be released next year on the XBLA.