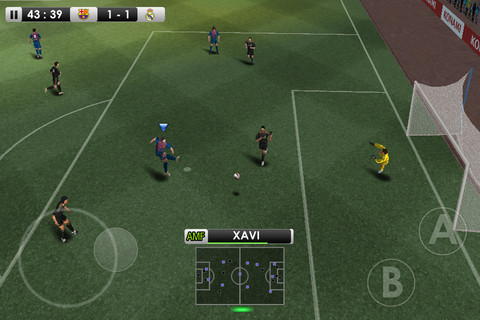 Being a massive fan of soccer (or football for fear of verbal retribution), I'm always excited to see a new addition to the sport on any platform. With the console version released in the US and coming soon to other markets, Konami digital have announced the release of it Pro Evolution Soccer 2012 app. for iPad, iPhone and iPod touch. As we would expect from the PES series, the game features ultra-realistic AI, coupled with brand new game modes including the Super challenge mode which allows players to create a "world team, " based on their favourite or highest ranked players.
Utilising the mobile nature of the game, players can download teams made by others from a cloud server and play against each other, all the while keeping tabs on their rank through facebook. Konami have also done a lot of tweaking to players movements, especially in relation to the goalkeepers who now enjoy much more freedom to close down attacks, react to finely placed shots and come off their line to close down angles. Players movements have also been upgraded to make well known icons more recognisable by their specific traits and actions.
In addition to all these goodies, the game will also exclusively feature the UEFA Champions League and UEFA Europa League as well as the plethora of International and club teams always on offer. There's also a game mode option for everyone, even those that are very limited with time, as players can opt to compete in full seasons, cup seasons or play online with friends via Wi-Fi or Bluetooth. Konami have also included a host of mini-games to enjoy such as Quick play matches and the ability to practice your shooting skills so you don't choke in those big matches.
The Pro Evolution Soccer 2012 app. is available free from the Itunes App. store for iPad, iPhone and iPod touch, with additional DLC available for $5.99 through the In-App purchase.