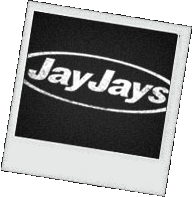 I love Jay Jays. I see it as the Australian version of Hot Topic and before someone starts complaining that its not a nerdy place well you just got to look at some of their products. I mean t-shirts filled with Spongebob, Invader Zim, Mario, Yoshi, Boo and Transformers kinda have to be seen as a bit nerdy.  So let's check it all out..
Here is some helpful information:
What: JayJays
Where: Albury, Armidale, Ballina, Bankstown, Batemans Bay, Bathurst, Bay Street.

Products that were memberable:
• Gir Backpack
• Boo Hoodie
• Yoshi shirt
• Transformer Top
• Hello Kitty Tank Top
• Mario and Lugi Shirt
• Superman Shirt
• Futurama Bender Shirt
• Decepticon Shirt
• Green Latern shirt
• Spongebob shirt
• Epic fail shirt
• Optimus Prime Shirt
• Invader Zim Underwear
• and much more 😀
The Good:
They have fun nerdy fashion that is hard to find anywhere else in Australia.
The clothes are actually reasonably priced at the shirts usually costing $20
The Bad:
They stopped selling invader zim stuff!!! I love Invader Zim and well since Invader Zim isn't as big in Australia as it is in America, they stopped selling these design because people weren't buying them.
My silly own opinion:
I love JayJays for all their nerdy shirts and accessories. It's one of my favourite stores in Australia and I honestly get a lot of my clothes from there. I love that they have so many nerdy stuff for girls and boys, though I must admit … sometimes I buy some of my clothes from the boys side because something such as Yoshi or Boo is so much cooler then Hello Kitty or Tinka Bell.