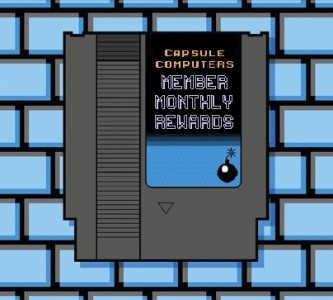 Welcome to Capsule Computers' second Monthly Member Rewards Giveaway! Every month we plan to announce a member and send them a PRIZE from our lucky dip draw, to acknowledge them an active member and thank you for making us your #1 stop for video game and pop cultures news and reviews! We love to reward members by giving away games and other cool prizes to those who stick by us! This month's WINNER was selected for not just being a loyal member who has been with us for a long time, but earlier this week fought off a few trolls in the shoutbox. The winner is:
cellophane-girl
Congratulations! Our Editor-In-Cheif MasterAbbott will be contacting you shortly. Be sure to check your E-mail, we hope you enjoy your prize! 🙂
WANT TO WIN COOL GAMES AND STUFF LIKE cellophane-girl?
We're giving away various X-Box 360, PlayStation 3, Wii, P.C., iPhone, X-Box Live Arcade and PlayStation Network games as well Amazon Vouchers and we can't wait to give them away!
All you got to do is register as a member of Capsule Computers to be in the running for a chance to WIN! For hints, tips and the rules go here for more info.
Be sure to stick around on the site as we do lots of competitions and giveaways as well as the monthly rewards, and do even more on our Facebook and Twitter, so make sure you follow us there and stay tuned for more awesome prizes!