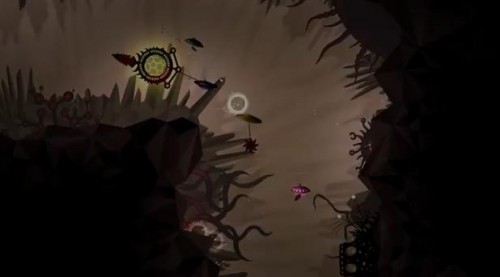 Not too long ago, we seen the release of Insanely Twisted Shadow Planet on the Xbox Live Arcade. If you still have yet to hear of this title, it works a bit like a Metroidvania game where the player must explore a non-linear area while completing environmental puzzles. We gave the ambitious title a 9/10 (you can check out that review here) and now Fuelcell Games are ready to dish out some new DLC.
Titled "Shadow Hunters", this add-on will have 1-4 players pick up right where the campaign left off with many new gameplay elements mixed in. I for one enjoyed Shadow Planet and the "Lantern Run" that came after, and creator Michael Gagne seems to be attempting to push the game even further with this new content.
"Shadow Hunters won't be more of the same", said artist Michel Gagné. "I'm really happy that we were able to further the story, steer the art in a fresh direction, and create an adrenaline charged gaming experience. As far as I'm concerned, Shadow Hunters may very well be the most exciting part of ITSP."
You can pick up Shadow Hunters this Wednesday when it comes out at the price of just 400 Microsoft points and finish the mission of eradicating the shadow virus once and for all. You can also check out the new trailer for this pack below to get a first glimpse of the new co-op mode in action.