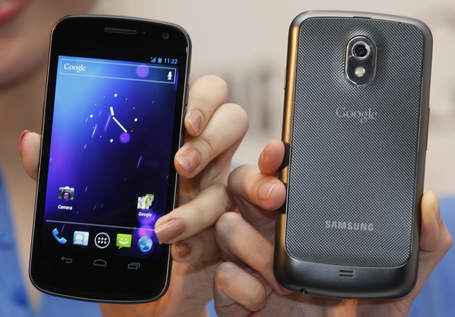 As I watch Elmo with my young daughter on my Samsung Plasma screen I began to ponder the slow but sure rise of Samsung to the forefront of the entertainment industry. Whether it be the latest SmartTV or Smartphone, their products ooze class, are packed with every feature under the sun and well, they just tend to make things look better. So it should be of no surprise that Samsungs newest addition to the Android family, the Galaxy Nexus continues with this tradition.
Boasting Android 4.0 Google Operating System (aka Ice Cream Sandwich), whose native resolution of 1280 x 720 is in line with the dimensions of the Nexus, meaning everything should run seamlessly well. As well as having the highest resolution seen on a Super AMOLED plus screen the Nexus also comes complete with a 4.65" screen, perfect for media viewing on the go.
In terms of internet connection, the Nexus use LTE or HSPA+ radios which ensure a super fast connection regardless of where you are located. The camera is not too shabby either, being 5MP and having the ability to shoot video at up to 1080p. While it is yet to be seen how well it shall work across varied situations, the Nexus also comes with facial recognition security, meaning gone are the days of having to enter a pin to keep from accidentally making those long distance calls while sleeping on the dial button. Also bult into the Neus is an NFC modules that allows users to share web pages an information by simply tapping two phones together like magic slippers. Unfortunately you will still be forking out for that cab ride home after a drunk night out as there havent been any reports of  being magically transported back to Kansas or wherever you are located.
Stay tuned to Capsulecomputers.com for more information about this awesome piece of hardware as it's released and enjoy the trailer which gives a little glimpse of the phone and its capabilities.