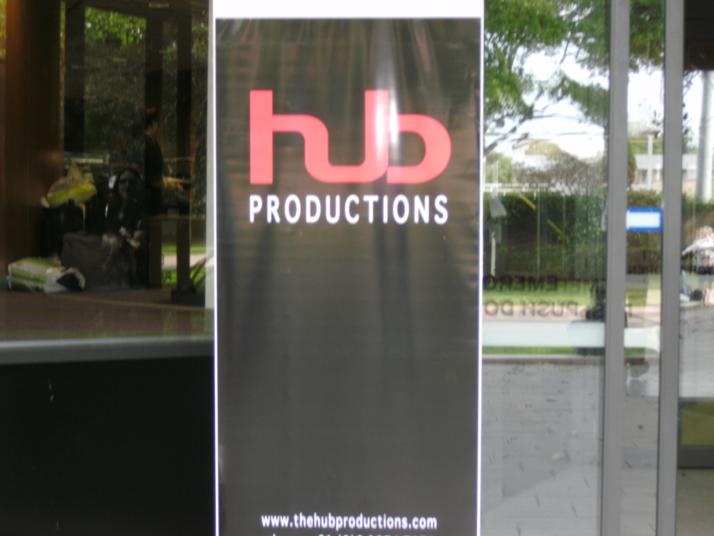 A Warehouse in Eureka was different than what one would expect from a television convention. I wouldn't even really classify it as a 'convention', it was a lot more personal than that.
Held in a UNSW law lecture theatre, there were a small – but eager – number of attendees. I'd say it was even more personal than the hundred-people meet-and-greets, and that was the perfect environment for Eddie McClintock and Colin Ferguson. As you guys probably saw in our interview with the guys, they're about the coolest, funniest, most laid back guys you could meet that lead two awesome shows.
The day itself started at around 10am, going all day, and was filled with playing episodes on the big screen, trivia and celebrity (the show characters) heads, and cool giveaways such as signed headshots and even some Café Diem napkins and pens. While this was happening the people who wanted photos and signatures were called out, the rest of us (though there were basically none left over) sat down to enjoy some old episodes of the shows.
Then Eddie came in for a Q&A session, which consisted of him running to each person with the microphone and then answering each question with hugely detailed, self-examining, and super funny answers. We got to hear about his close personal tie with Great Whites, his drawings, some stuff about the cast, his audition story, and why he got a personal trainer (someone commented on his 'every man's body' and lack of exercise, which was untrue and hence inspired a trainer). Eddie was blatantly honest, and pretty personal with the group, he didn't seem to mind showing off his inner geek as well as klutz. At one point he drenched himself in Diet Coke and turned it into a running joke.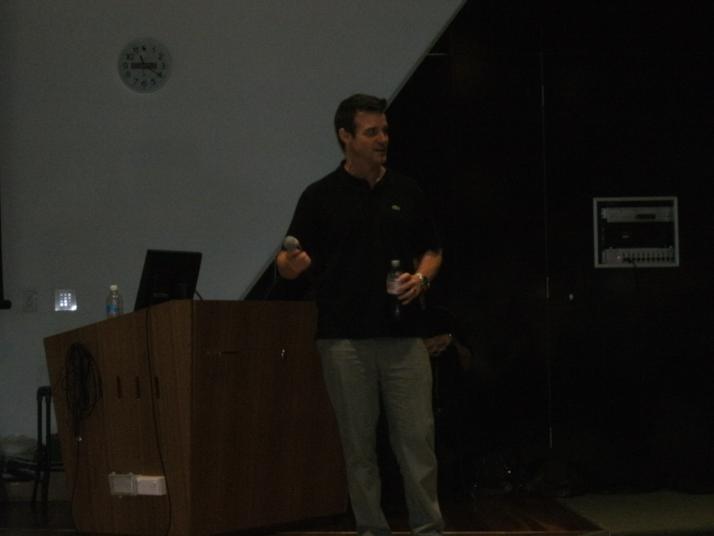 After Eddie, and lunch, Colin came in for the Q&A. Colin's was quite different from Eddie's, in a good way, there were less questions and more rambling on his part. Not to talk down the rambling, it was all interesting and personally, I quite enjoyed it. He talked a lot more about the cast and crew, what it was like working on Eureka, and personal stories about some of the other cast members. He also called Neil Grayston (who plays Fargo and was meant to be in attendance) via Skype and we got some Neil time, he also tried to reach Erica Cerra (Jo Lupo) and Alison Scagliotti (Claudia on Warehouse 13) but unfortunately was not able to, although we did leave some interesting voice messages for both of them.
The best part of the day, I would have to say, was seeing Eddie and Colin interact. They both have quite strong comedy backgrounds, and it comes through when they're on their own but putting them together pretty much ensures that they'll just keep playing off each other until you're in stitches from laughing.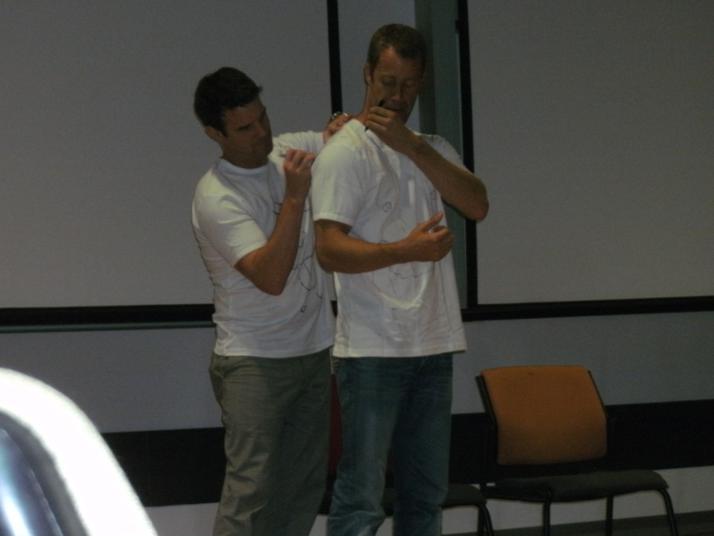 And then there was the auctioning of shirts that they wore and drew on for charity. They both took off their current shirts, much to the hollering, whistling and whooping of the audience, donned the plain white shirts and proceeded to draw interesting and odd things on their shirts. Congratulations to the winners, who also got the shirts with personal messages and signed by each actor, it was a hard-won fight on both their parts.
Overall, I would say it was definitely worth it. The size of the audience was perfect for both actor's attitudes, and the day was both casual and with a high level of excitement.
Unfortunately we weren't allowed to film the Q&A session, but we did get a few choice pics for all of you that missed out on the event. Check them out in the gallery below!
It was great of Colin and Eddie to come down to Australia, sign our papers, take photos with us, and generally entertain us for hours. I hope that they enjoyed their time here as much as the audience to the event did.
[nggallery id=410]