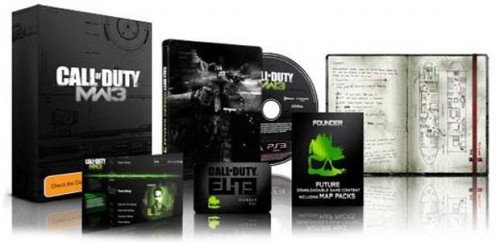 At Call of Duty: XP, the inevitable "Hardened Edition" of Modern Warfare 3 was announced, giving those anticipating the game's release a reason to run to their local retailer and upgrade. Most limited editions for Call of Duty titles are usually priced at $79.99, but Activision have listed this one at $99.99. Now, before you grab you pitchforks and torches and prepare to riot on Bobby Kotick's doorstep though, you should take a look at just what is inside this box as in my opinion this might be the best value for any Call of Duty fan awaiting the game.
So whats inside? Here is the full list of contents:
Special Founder Status: Includes an exclusive in game emblem, playercard, weapon camouflage, clan XP boost, and "more exclusive benefits".
Collectable Steelbook Case
Unique Disc Art
Exclusive Playstation Network Animated Timeline Theme *PS3 Only*
Exlclusive Special Ops Juggernaut Xbox Live Outfit *360 Only*
100-page field journal with military sketches and written entries detailing the Modern Warfare saga.
One Year of Call of Duty Elite Services

Now considering the hefty price of COD map packs (and the fact that Elite will cost $49.99 to start with), this pack seems to be a pretty nice ensemble for those who plan to go all out and save a bit of cash in the process. Of course you can now pre-order this Hardened Edition for Modern Warfare 3 now, and then be forced to wait patiently as the timer slowly winds down to November 8th.