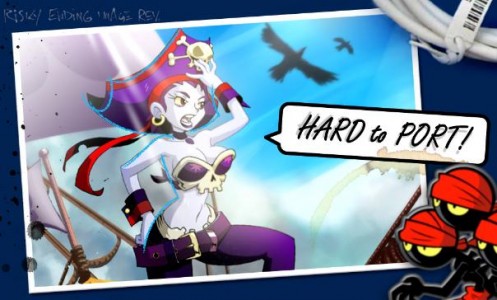 As I've mentioned quite a few times before, we here at Capsule Computers are huge fans of Shantae and just about everything WayForward deliver. In some rather exciting news, WayForward have recently updated their official website with an image teasing a "special announcement" that will be coming sometime in the near future. Risky Boots from the famed series is seen bellowing out the line "Hard to Port!" in the image on the page, located right below a bit of text that reads:
"Attention Shantae fans! Keep an eye on TouchArcade for a very special announcement, coming soon!"
Now, as some of you may know, TouchArcade are completely iPhone devoted, so this very well could mean that one of the two Shantae titles are on the verge of coming to the iOS. I certainly could use some Risky's Revenge on all of my portable devices, and once we find out just what this announcement pertains to, we will be sure bring you an update.