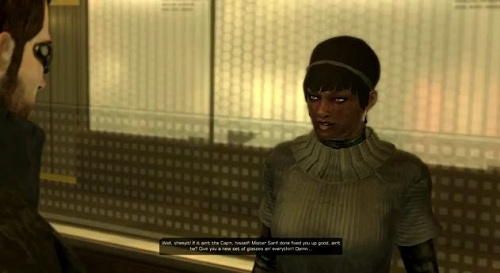 There has been a little bit of controversy following the release of Eidos Montreal's Deus Ex: Human Revolution. The controversy is due to a homeless black woman known by the name of "Letitia" and the way she speaks and sounds. As you can see in the video below Letitia can be seen as a stereotypical black person, with an odd voice and obvious lack of education due to her speech patterns.
Square Enix responded to calls of racism saying the following:
"Deus Ex: Human Revolution is a fictional story which reflects the diversity of the world's future population by featuring characters of various cultural and socioeconomic backgrounds. While these characters are meant to portray people living in the year 2027, it has never been our intention to represent any particular ethnic group in a negative light."
I mentioned in my review that there was one character who could be seen as racist, but only by some. Letitia is a homeless person that is digging through the trash, and there are countless homeless in the world of Human Revolution. There are also a number of other black characters that are well spoken and intelligent. Would it have made better sense and helped with immersion if Letitia was wearing a fancy dress and spoke like a college professor? No it wouldn't have.