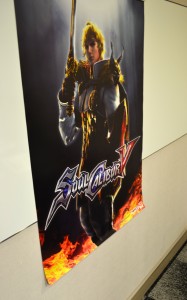 Soul Cailbur V is set to release Q1 2012 for the Xbox 360 and PS3, we recently sat down for a hands on experience with the game. The story and art direction are set for an overhaul, Namco Bandai for the first time collabarted with outside companies to produce the game. The developers promised a deep, diverse world, more so than the previous entries. Online mutli-player will also be available, including exclusive costumes, which are TBA.
Some of these collabarators include Cyberconnect2, Isao Takeshita (Naruto series) on the art direction, John Kurlander (sound/orchestra) whose worked on films such as LOTR and Die Hard 4.0, and a company called Force Wick for the sound effects. It seems the team are really going all out to try and make this the best Soul Calibur so far, they're also crafting hand-drawn animation with Takeshita, instead of just full motion capture for the final product.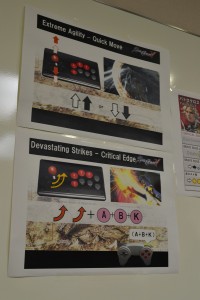 All the favourite characters are back, special guests are unknown and the game is set 17 years after SC4. The main character is going to be Patroklos, son of Sophitia and the central focus on story seems to be revolving around the theme of swords. We were shown a trailer, which was fairly basic production values, but it gave us a general idea of the story.
Unfortunatley single player wasn't available for play, as the game is in early stages, but that didn't stop me from trying out some of the new features in versus. There's two new combo moves called Critical Edge and Quick Move, which are basically the games power up attacks that produce some flashy animation and high damage. It seemed to balance out the multiplayer nicely when we were playing, especially since everyone was learning on the fly, the fact that we were using official arcade sticks probably helped out alot as well. Just like the previous games, the controls were responsive and enjoyable. The costumes were interesting: Voldo was probably the standout (trippy looking fur) along with alot of the ladies as per usual.
An interesting tweet by Soul Calibur designer Daishi Odashima a few days ago didn't exactly paint the best picture for the developement process, saying "We'd like to take our time to make the game but the company's always on our back. I'm nothing more than a salaryman :(" but it's certainly not something that showed in my time with the build I played. Check out the video below of some 1v1 with a Cameo appearance by our Editor Kyle Moore having a fingerbash, he was unbeatable! We even got some photos of the move list.