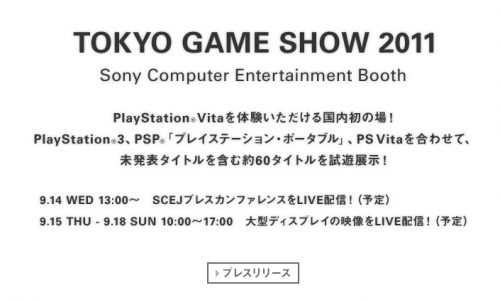 Want to get a sneak peek of what Sony's pulling out this year at TGS? Well Sony recently updated its Tokyo Game Show 2011 web page to announce that its pre-show press conference will stream on Wednesday, September 14 at 1:00 p.m in Japan (2PM EST). From Thursday, September 15 to Saturday, September 18, the site will also stream a video reel of the event from 10:00 a.m. to 5:00 p.m (11-6PM EST). However Sony didn't specify if the streaming videos will be viewable worldwide.
The event will feature 60 playable demos of upcoming PlayStation 3, PSP, and PlayStation Vita games. It's sure to be a big one for Sony in it's hometown, perhaps even better than Gamescom, we're likely to see unannounced PS Vita games. September 15 and 16 will be days for press and industry professionals, and September 17 and 18 will be open to the public. Capsule Computers will have a team present and we'll be giving you updates, hands-on previews and much more!
Konami is also streaming four event videos before the Tokyo Game Show opens, specifically focusing on Kojima Productions.
Via Andriasang