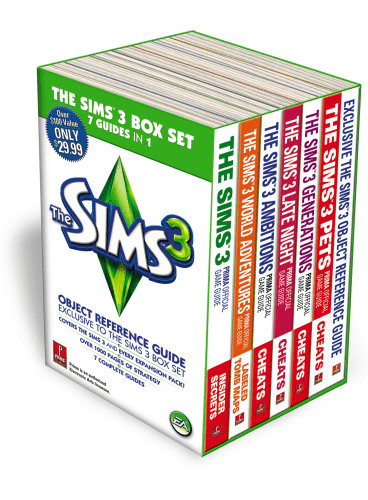 The Sims 3 is one of Electronic Art's most successful titles, selling over 3.7 Million copies since its launch. What isn't there to love? Making your own people, giving them dreams, relationships and if you are feelings particularly evil, you can make them lose everything and even kill them if the mood strikes you. It has challenging and open ended game play that can last weeks, or even longer for the more dedicated Sim-er.
The Sims 3 offered more than its predecessors, with an entire city being accessed, rather than just a household. You can ride your bike to the park, take the car to work, visit the local supermarket and so much more. Also with the release of the expansion packs, you can travel the world, extend your career options and explore your childhood in new and exciting ways. The Sims 3 Pets in also arriving in kennels soon.
Now the lovely people at Electronic Arts and Prima Games have put together not only a strategy guide, but a whole BOX SET of strategy guides. Helping our Sims live the best lives they can, or finding the best way to destroy them.
The guides includes an extensive Object Reference Guide which is exclusive to the box set. It includes images and information on EVERY item available on Sims 3, including the standard items, the Sims 3 Stuff Packs and the Sims Online Store.  This will be very handy for the house designers who love the game.
So look exclusively to  EB Games for over 1000 pages of stats and information to bring you Sims 3 knowledge to the next level. The box set is set to be released 18th October 2011.