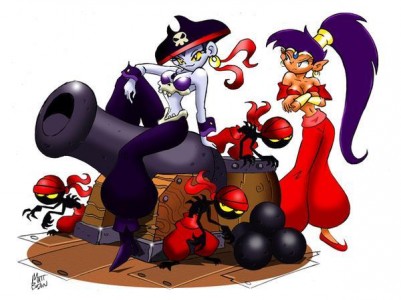 Yesterday, we brought you a tease for a mysterious "port" that Ms. Risky Boots herself hyped on Wayfroward's official site. Well, today the cat is out of the bag as it was announced over at TouchArcade that Shantae: Risky's Revenge will in fact be headed to the iPhone, iPod Touch, and iPad. Now if you are one of the poor, unfortunate souls that have never heard of this title, Shantae: Risky's Revenge was the sequel to Wayforward's 2002 Game Boy Color release, which became an instant cult classic for the handheld.
Shantae: Risky's Revenge honestly is one of my favorite games of all time, as it not only presented a polished platformer, but it actually innovated on the classic genre with fresh gameplay mechanics and a crisp visual design. The biggest worry of many would be that this title might make a bad port considering the touchscreen controls, but Wayforward have already kept that in mind and mentioned that this version has been a work from the heart and was re-built to compliment the platform with new tweaks to the platforms, graphics, and controls.
Now it is just a waiting game as there isn't a solid date of when Shantae: Risky's Revenge will hit the iOS, but once we hear word or even extra info on the port, we will be sure to bring you an update.