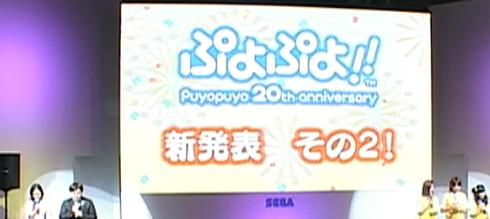 While it has been known for quite some time that Sega would be releasing PuyoPuyo 20th Anniversary, it was recently announced at TGS that the famous puzzler would be headed to the 3DS. This version is set to include some interesting features as well with each player having the ability to use their photo as a backdrop in-game and interact with eachother via the handheld's wireless functionality.
The Nintendo Wii version will also get a star-treatment, with newly announced motion controls that will let players slide their googly-eyed pieces around the map by gently moving the Wii remote. PuyoPuyo 20th Anniversary is surprisingly also coming to the PSP and the DS, with the same avalanche stacking action packed in.
I really hope we get to see at least one of the versions of PuyoPuyo 20th Anniversary in the states, but for now those in Japan can expect the game to hit shelves on December 15th with an included soundtrack bundled in.