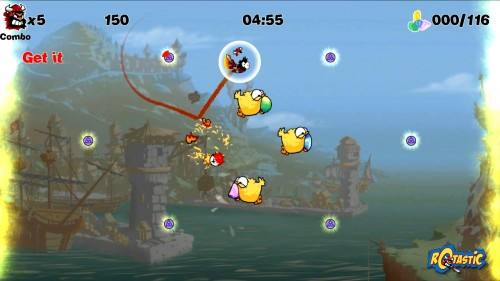 Rotastic from Focus Home Interactive has arrived on the Xbox Live Marketplace today for the price of 800 Microsoft Points. So, to help you decide whether it's worth picking up, Focus Home Interactive have released a launch trailer, giving an indication as to what the gameplay is like.
The Xbox Live Arcade game aims to be accessible and fun for all with a one-button mechanic. Navigating each course is quite simple: simply press any button to hook your rope to the nearest anchor point, spin around, gather momentum and release the button to fly from point to point. Almost 70 levels across 7 worlds aim to make the gameplay gradually more complex to offer a challenge once you get the hang of it, and replayability is a selling point as the score-based game asks whether you have it in you to earn the 'gold helmet' for each course.
Rotastic releases today on Xbox Live Arcade. The game will release on PlayStation Network and for download on PC beginning 2012.