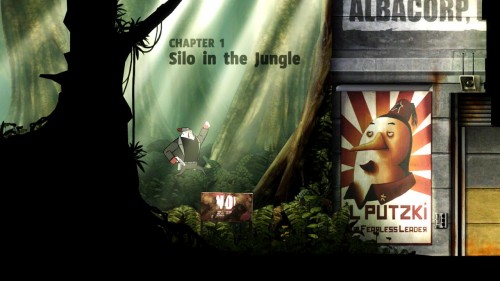 Some of you may or may not be familiar with the browser based side-scroller by the name of Rocketbirds: Revolution. It may be just a flash game to some, but since release it certainly caught the eye of many and has made quite a name for itself on the indie game scene over the past couple of years. Developers Ratloop Asia are looking to continue the growing IP's success, and have now announced Rocketbirds: Hardboiled Chicken for the PSN.
Rocketbirds: Hardboiled Chicken will take the same formula from Rocketbirds: Revolution and expand upon it with new characters, missions, puzzles, exclusive music videos, retro cut scenes and more. This plot will have players take the role of Hardboiled Chicken and attempt to save the land of Albatropolis from an evil Penguin regime. Sounds pretty awesome, right? To add to this plot, a separate story can be played via co-op where players must team up to save the general's daughter.
Here is a more detailed list of features for this PSN release:
15 Chapters in Solo Campaign – Assume the role of Hardboiled Chicken, kick a$$, kill penguins and take names on a mission to assassinate the evil penguin leader.
10 Chapters in Co-Op Campaign – Select a pair from the dirty half-dozen Budgie commando characters and set out on a mission to save the general's daughter.
Puzzles: Your birdie-brain must think quickly to use your environment and solve a variety of puzzles to move on to each level.
Stereoscopic 3D: Fantastic, non-dizzying Stereoscopic 3D support, running at 60fps/720p enhance the visuals wherever available.
Mini-stories: The plot thickens as you unlock cut-scenes and music videos at each level that uncover the truth about the totalitarian regime and Hardboiled's mysterious past.
Weapons: Kill penguins with a cache of guns you'll find along the way from pistols, shotguns and Uzis to MP5s, M60s and AK-47s. Bring down the regime with grenades and other explosives. Unlock the ultimate weapon – Brain Bugs!
Rocketbirds: Hardboiled Chicken launches this October for the PSN. Once a definite date is announced, we will be sure to bring out an update. While you wait though, check out the shiny new screens below that show off this poultry romp in all of it's squawking glory.