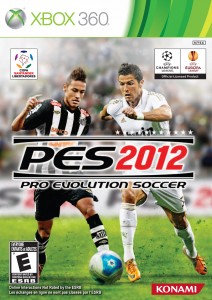 Konami have just announced that Brazilian starlet, Neymar, will join Cristiano Ronaldo on the cover for Pro Evolution Soccer 2012 in both North and Latin America.
Konami feel that Neymar (who is being chased by footballing giants Barcelona, Real Madrid and Chelsea), is the perfect addition to the cover given his electrifying skill and already well-respected in the football world despite only being 19 years old.
Neymar has been representing the Brazilian national team for the last few months and is a key part of the Santos team in the Brazilian league.
Konami also have confirmed that the initial preview Xbox 360 demo, which was delayed, has been canceled. But 360 fans don't stress, as apparently the second demo will be available on September 14th.
PES 2012 comes out in America on September 27th and October 13th in Australia and Europe.