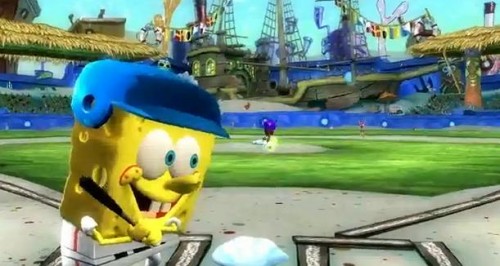 As I have mentioned before, one of the most bizarre titles coming out this year is without a doubt Nicktoons MLB. The game itself actually looks quite good, but the bizarre part comes in with the likes of Spongebob and other animated mascots going up against professional Major League Baseball players. Those who grew up watching Nickelodeon, or even kids of today for that matter will have plenty to hold over their appetite with as Ren & Stimpy, Invader Zim, and many of today's Nicktoon characters will all be fully playable right alongside the 300 actual players from all 30 MLB clubs.
2KPlay released a new trailer for the game today, which shows the game in action. From the looks of it, each character will feature their own signature plays, meaning the toons will have comical and over-the-top techniques and the pros will be able to recreate famed maneuvers from the MLB circuit. I honestly am digging what I have seen so far from this mash-up, as it looks like parents with a love of baseball will finally be able to get their uninterested kids to pay closer attention.
Nicktoons MLB is now in stores for the Xbox 360 (with Kinect support), Nintendo Wii, and the DS. Now while your debating getting in on this action, you can also check out the new trailer below in all it's toon-filled glory.
More Nicktoons MLB NEWS…