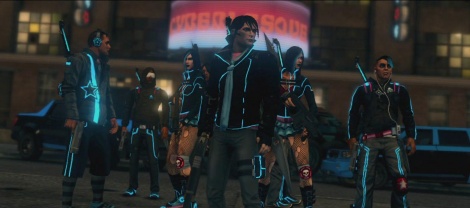 THQ have released a new trailer showing off another opposing gang, The Deckers, to the Saints which will be featured in the third installment of the Saints Row series.
The Deckers, led by self-appointed Cyber God, Matt Miller, are a group of cyber-terrorising criminals who decide to target the Saints. They apparently hack the Saints' bank account and wipe it clean, so what better way to get back at them but to f@#$ some s*&t up in the virtual reality, Tron-like world.
Saints Row The Third seems to be really mixing up the gameplay in a whole new way, stylising the missions to the gangs in a whole new way and to a much more extreme level than they did in the second Saints Row.
But enough talking from me, just go watch the video below and see it all for yourself! Don't forget to let us know what you think in the comments below!