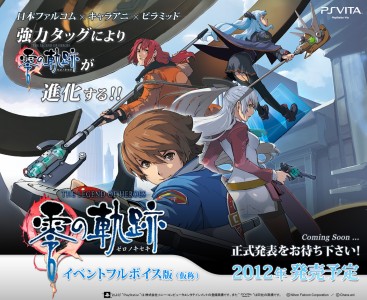 First there was Ys: Woodland of Celceta, a remake of Ys IV. Now, Nihon Falcom has announced a new Vita game: The Legend of Heroes: Zero no Keisei Event Full Voice Edition (yes that is the title). The Legend of Heroes: Zero no Keisei is the sequel to Sora no Keisei. The first one was recently released in the West as Trails in the Sky. Trails of Zero (a rough translation of the title) was released last September in Japan. Over here, we are still waiting for the second chapter of the Sora no Keisei trilogy.
Not much has been said about the game expect, as the title may suggest, the game will have more voice acting than the Playstation Portable version. The game has an official site (www.zero-full.com) but it is only an image of the main characters of the game and some text. However, there is one piece of text which can be considered important. If you go to the website, one would notice the number 2012. That is the release year of the game but only for Japan.
Falcom has also partnered up with several companies in relation to the production of the game. Two companies that have been noted are figure maker Chara-Ani and Patapon creators Pyramid Inc. Can this mean that, with the inevitable Limited Edition going to be released, we will see a figurine within it? Also, will we see XSEED Games localise the game in the coming years?